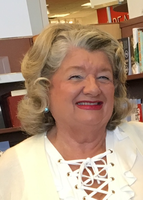 Carol Ann Gilchrist
GILCHRIST, Carol Ann - passed away unexpectedly in hospital on Tuesday, December 12, 2017 due to complications related to heart surgery in London, Ontario. Carol was loving wife to predeceased husband of 48 years Ian, and was beloved mother to son Craig and daughter-in-law Dana, "Gran" to two granddaughters, Kennedy and Rylie, and dear friend to many.
Born in Newcastle, England in 1946, she settled in London, ON, where her decades long career in the staffing industry kept her very busy and resulted in innumerable treasured friendships. She had recently reconnected in different ways with old friends and family and had hoped to travel post-surgery. Carol wished to spend more time back in the U.K. visiting loved ones and had hoped to return to beautiful Antigua, her favourite vacation spot to visit with Ian.
In lieu of a funeral, we plan to hold a small private family celebration of her life in London, ON over the holidays. In support, please take extra care to cherish your family and friends over the holidays and please consider making a donation to the charities closest to your hearts in Carol's name.
Carol leaves a tremendous void in many of our lives but we hope that her kindness, dedication, generosity of spirit, laugh and "Geordie" voice are foremost in your mind when you think of her.