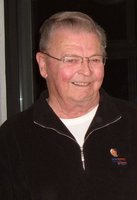 Dale Richard Baker
After numerous close calls over the years, Dale died peacefully and with dignity, surrounded by his wife, children, and grandchildren, on Saturday, December 30, 2017.
Left to celebrate his life are, his wife of 32 years, Connie (Henderson) Baker, and his children, Bonnie Baker, Lori (Mike) James, and Rick Baker; his many grandchildren, Billy (Elysse) and Jory Langeveld, Sarah and Chris (Kasey) James, Dean, Corey and Kyle Baker. Also Connie's children, Lisa (Peter) Kaczynski and Darren (Maria) Sargent; grandchildren, Jeremy and Marisa (Garrett) Bourque, Matthew and Julia Sargent. And, as if his many grandchildren were not enough, Dale lived to see and hold his first great-grandson, Wesley Langeveld. Also survived by his siblings, Barry (Barb) Baker and Donna Bishop (Ron). Predeceased by his parents, Glenn and Arnetta Baker and brothers, Glenn and Bryan Baker.
Dale was born, on the kitchen table, in Dashwood, Ontario, on July 22, 1939. He moved to London, Ontario, where he met and married his first wife, and they were blessed with three children.
Dale worked as a bookkeeper for many years, but in order to fulfill his life-long love of animals, he first owned Quarter Horses and competed in barrel racing. He went on to become involved with the Standardbred industry. Dale worked as an owner/trainer and owned and operated his own business, Glory B Stables, in the early seventies. His pride and joy was being part owner of Ralph Hanover, who, in 1983, won the Triple Crown of Standardbred Racing and he returned with The Little Brown Jug. After many successful years, Dale realized his dream as the co-owner and manager of Grand Royal Farms.
He sold the farm and retired in 2005, living out his retirement years with Connie and spending the summer months at the trailer in Port Burwell and the winter months in London near his children. He enjoyed reading, cooking and following the horses every morning. He also enjoyed golf but when he was unable to play anymore there was always a golf game on the TV. He was a Leaf's fan his whole life. He knew more than the doctors.
We encourage family, friends and associates to join us in a celebration of Dale's life, on Sunday, January 14th from 1pm - 4pm at Western Fair District, East Annex, London, Ontario.
Donations in Dale's memory can be made to the London Wheelchair Basketball Association, 22934 Wonderland Road North, RR 3, Ilderton, Ontario, N0M 2AO.