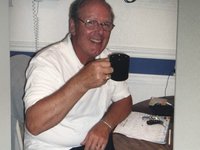 Alan Bell
Alan "Al" Bell, 74, of London Ontario, passed away on Thursday April 1, 2021 at home after a courageous battle with cancer, surrounded by loved ones who will continue to honour his legacy by living their lives to the fullest.
Alan was born on March 12, 1947 in Sunderland, England.
Alan was a true British gentleman, determined to care for his life partner of 21 years and wife of 15, Valerie, and give her the life he felt she deserved. His extended family meant more to him than anything in the world, something he often mentioned. He was unendingly proud of his wife, stepchildren and grandchildren and always tried his best to support them.
Alan was predeceased by his mother and father Violet and Alfred Bell, his sister Jean Bell (Sayers), brother-in-law John Barker. He is survived lovingly by his wife Valerie Bell, sister Sue Bell (Barker), brother Bernard Bell (Mary Bell), stepson Vincent Schuiling (Mandy Schuiling), stepdaughter Brenda Schuiling (Raphael Foa), grandchildren Cody Schuiling (Miranda Schuiling), Nicolas Schuiling-Radic (Sarah Rhydderch), great grandson Lawson Schuiling, nieces, and nephews.
As per Alan's request there will be no funeral service. Cremation has taken place.
A deep heartfelt thank you goes to Dr. Mario Elia. With his unwavering support, we managed through one of the most difficult journeys of our life.
Another incredibly special thank you goes to oncologist, Dr. Mark Vincent and Dr. Andrews and all of the selfless frontline heroes who gave their time, patience and loving support through Alan's battle with cancer.
– In true British style Alan stayed strong until the end.