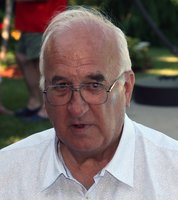 Douglas Harvey
Doug passed away peacefully, with family by his side, in his 85th year.
Predeceased by his loving wife Shirley, and daughter Karen Kloibhofer (Perry); father of Shawn Harvey (Tania), Jeff Harvey (Susan), Julie Low (Chris), Sheri Robertson (Gordon) and Geordon Harvey (Julia). He will be greatly missed by his grandchildren Stephanie, Jay (Stephanie), Sydney, Olivia, Amelia, Simon, Emma, Mike, Victoria (Malcolm), Heather, Charlotte, Sebastian, Nigel, and great-grandchildren Nolan and Nora.
Born in Windsor Ontario, oldest of three; son of Fred & Jessie Eileen. After losing his father at a young age he found community in the Lincoln Road United Church, basketball, and Scouting, receiving the Queen's Scout Award and carried on becoming a leader with Scouts Canada for many years.
Doug was very proud to have attended Ford of Canada Trade School, followed by a long career with Ford Motor Company, working in Windsor, Oakville, Dearborn, and St. Thomas. Even after retirement, he would get together with his former colleagues for coffee to reminisce.
During their 60 years of marriage, Doug and Shirley enjoyed exploring Canada with their family pulling the trailer from one coast to the other, making sure to stop at every scenic sight along the way. Doug pursued many hobbies including genealogy, woodworking, photography, and his antique cars. Summers were spent by the pool, surrounded by those he loved. True to his Newfoundland roots, he was a story teller. From memories of his youth, to office antics, and special days with friends and family, Doug wanted everyone to know that he was the luckiest guy around. All who stopped by often heard "Come on in, there's cold drinks in the fridge, help yourself, and grab a Vernors for me. Have I ever told you the one about …"