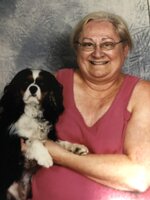 Marie Anne Campbell
Marie Campbell (maiden name Marie Leonard), passed away at the age of 73 on Thursday, October 14th, 2021.
Marie was born in London on January 21st, 1948 to Maudie and Lucien Leonard.
Marie was mother to Mary-Catherine, Susie, and Janet. She raised her children with love and devotion, alongside her husband Bob.
As a true lifelong learner, Marie loved being both a student and a teacher. Her early career years were spent as an elementary school teacher until she decided to devote her time to raising her young family, as well as fighting for the rights of children with special needs through inclusive education. Once her daughters were older, Marie returned to university to study Sociology, then tended her passion for fashion by working for several years in Kingsmill's Department store. Marie later returned to school to study business at Westervelt College and finally landed her most favourite job teaching adults at the London Centre for Lifelong Learning. There, her compassion and inspiring nature was appreciated by all her students.
Marie was best known for her generosity and passion. She dedicated many years to helping others, whether it be an ailing neighbour, or patients she met through her work with London Hospice and St. John Ambulance. Her love of classical music led her to countless Orchestra London concerts as well as being an avid supporter of the Opera Guild. Her passion for knitting resulted in hundreds of beautiful projects and connected her with knitting aficionados throughout London.
Marie is survived by her husband Bob, daughter Mary-Catherine, and grandchildren Hannah and Emily. She will be greeted at the gates of heaven by precious daughters Janet and Susie, and beloved pets Molly and Maggie.
Cremation has taken place and a small family service will be held soon.
In lieu of flowers, donations in Marie's name can be made to St. Joseph's Hospice of London, or St. John Ambulance