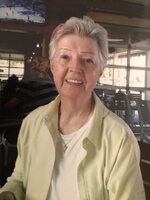 Annie Marie Whalen
It is with great sadness to announce the passing of Anne (Annie) Marie Whalen, 77 on October 17th, 2021, London, Ontario.
Beloved spouse to Linda Rowe, pre-deceased by two sisters Kathleen, Eileen, and four brothers, Steve, Ed, Jim, Nick and survived by one sister Anita (Nita). Loving Aunt/Great Aunt to many nieces and nephews. Anne will be greatly missed by friends and family.
A proud employee of Bell Canada for many years.
She will always be remembered as a caring, giving and thoughtful person. Funerals to follow one in Thornhill, Ontario, one in London at Forest Lawn Funeral Home for friends and family.