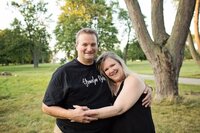 Pam Burrill
Pamela Lynn Burrill
June 5 th,1965 – April 27th ,2023
Pam went home to be with her heavenly Father surrounded by the love of her family at University Hospital in London, Ontario on April 27 th ,2023 in her 57 th year. Pam was the beloved wife of Robert Kenneth Burrill for over 33 years, dear Sister to Scott Taylor; Loving mother to Katlyn (Dennis), Rachel (Matthew). Cherished Nana of Hunter and Maverick Wenhardt as well as a treasured Aunt to Dallas Taylor. She will be remembered by many nieces, nephews, extended family and friends. Predeceased by Audrey Taylor (Mother), Fleurette Rolling (Grandmother), Cody Burrill (Nephew), Alice Burrill (Mother- in-law) and Elaine Burrill (Sister-in-law).
The first time I saw her, I just knew. People say if I knew then what I know now….no, I wouldn't change a thing. Pam was my best friend, lover, wife. A mother and a Nana; which I think she enjoyed the most. She was proud of her girls and loved them fiercely despite their differences. It's the dash in between the first day and the last. Pam made mistakes, sure; but she owned them and became a better person for it. She will be remembered by her caring heart and infectious smile.
Rest in peace baby, I know you will be waiting when it's my time. I love you most.
Celebration of life will be held on the date of May, 6 th,2023 @ 11:00am. This will take place at West Park Baptist Church. Located at 955 Gainsborough Rd. London, Ontario.