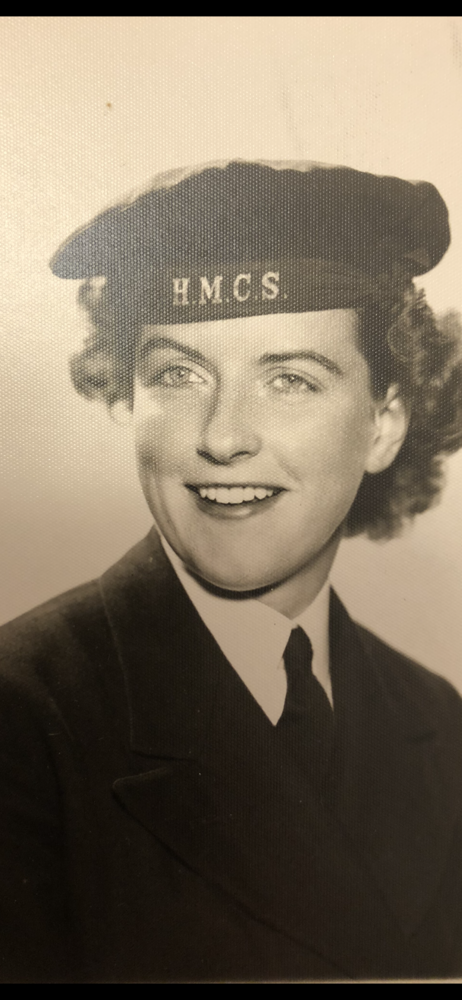 Obituary of Isabel Mauro
ISABEL MAY MAURO
nee McDonald

Peacefully, at Victoria Hospital, London, Ontario, on August 22 , 2018, four days before her 96th birthday, after a valiant struggle following surgery resulting from a fall at home. Cherished companion and beloved wife of 58 years of Rudolph (Rudy) Mauro. Lovingly remembered by her nephew, Grant Lake, his spouse, Betty Woodhouse; and grand-nephews, Ian and Kevin Lake. Predeceased by her sister, Ruth Lake. Born in North Bay in 1922, Isabel received her early education there, attended North Bay Normal School and was a graduate of the University of Toronto. She taught school in North Bay and nearby communities before attending business school and switching careers. She served in the Women's Royal Canadian Naval Service (WRENS) from 1942 until 1945, entering university upon discharge from the service.
Isabel's first passion was flowers, but she loved golf in her youth and was proud of the trophy she won. She was an avid bridge player, accomplished rug hooker and a keen investor. A tireless reader and newspaper clipper of living and health subjects, she loved crosswords and helped her husband complete ones that stumped him. She loved the outdoors and going on pleasure drives, with regular stops at Tim Hortons. She accompanied her husband on his outdoor adventures, including retracing, in Labrador, the routes of early explorers. As a trained typist, Isabel helped Rudy, before he discovered computers, with his manuscripts and magazine work. In 1994, she painstakingly typed the draft of his memorial book of North Bay and area Royal Canadian Air Force airmen who gave their lives in the Second World War. Raised in the United Church, Isabel had an intensely private and abiding faith in her God. In her latter years, she found solace from her membership in the Billy Graham Evangelistic Association of Canada.
Isabel completed her Wren training at Galt, Ontario, and St. Hyacinthe, Quebec, and was posted to Esquimalt Naval Station in Victoria, B. C. As a wireless telegrapher, she was specially trained to intercept high speed encrypted Japanese radio messages in Morse Code (Kata Kana). In her own words, she believed she was selected for the job because she was a trained elementary school teacher before enlistment. She and her classmates knew from the typewriters they worked with that they would be doing intelligence-related work. There were a dozen or so Wrens in Isabel's group and they were billeted in new barracks at Esquimalt. They signed the Official Secrets Act and were reminded daily never to speak to anyone about what they did. They worked in shifts, mostly at night. The work location was secret and they were transported there after dark in canvas-covered trucks (Gordon Head, site of the secret wireless station, is today a seaside neighbourhood in the greater Victoria municipality of Saanich). One of Isabel's recollections was a topic of conversation in her group about a nearby laundry operated by a middle-aged Japanese person. The Wrens had their everyday white shirts laundered there. Could the owner be a spy?
In 2016, Isabel was honoured by the United Kingdom government for her contribution during the Second World War, when she was presented with the Bletchley Commemorative Badge and certificate, awarded to veterans of the Government Code and Cypher School (GC&CS) at Bletchley Park and its outstations, including Gordon Head. To quote from the official record, GC&CS regularly penetrated the secret communications of the Axis powers. Bletchley Park, a Victorian Mansion in Milton Keynes, Buckinghamshire, was the top-secret home of the WWII codebreakers.
In 2005, Isabel's unique collection of personal service memorabilia, including the training copy of her Kata Kana keyboard, was chosen for display to mark the Year of the Veteran at the Military Communications and Electronics Museum in Kingston, Ontario. The collection is now a permanent holding of the museum.
Isabel's husband and family members extend their sincerest thanks to doctors, nurses and support staff of the Acute Care and Palliative Care wards of Victoria Hospital in London. At Isabel's request, there was a private cremation with no funeral service. Her ashes will be placed in the McDonald family plot at Union Cemetery in North Bay.